Bud Break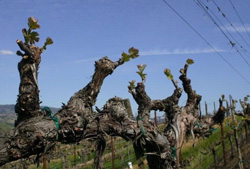 It's bud break time in the Napa Valley. This season of rebirth typically occurs in mid to late March in Morningside vineyard. For a month following bud break there is always a concern about possible frost or heavy rains, which could damage the fragile buds and have a very negative impact on this years yield.
At this time of year you can hear fans in the middle of the night circulating air to help prevent frost. Some vintners use smudge pots and others use overhead sprinklers as frost avoidance measures. Others just pray. Every vintner is watchful and hopeful the season will pass with minimal damage to the crop.
Bud break is influenced by climate, location and grape varietal. Chardonnay and other whites bud out first and Cabernet Sauvignon is one of the last. In the Morningside vineyard Sangiovese usually comes out first followed by Cabernet a week or two later.
Bud break is also an early indicator of when harvest will occur. As a rule of thumb, Morningside grapes will be harvested approximately 6 months after bud break. Our winemaker discusses bud break in the video below.