Chanticleer Elite Wine Club
In 2011, we launched the Elite Wine Club to better serve our best clients. To ensure our clients are able to obtain their desired quantities, launching the Elite Wine Club made good sense. Our first release of Chanticleer Riserva was an exclusive Elite Wine Club offering.
In addition to being offered first selection of each vintage, Elite Wine Club members are given the option to Opt Out if they do not wish an offering. They are also given the opportunity to request an additional allocation of each offering and these requests are fulfilled before any general release. If there is not an adequate supply, additional requests are fulfilled on a pro rata basis.
Shipping is included for all wine club orders or members may pick their wine up onsite. We have a Wine Club members only Harvest Party every Fall and we're happy to offer assistance in planning your Napa Valley visit. In addition, special releases of Library Wines will be limited to Elite Wine Club Members. For more information or to request membership, contact Bonnie Buss by clicking here.
.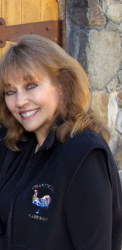 Bonnie Buss, Wine Club Director