Bloom and Berry Set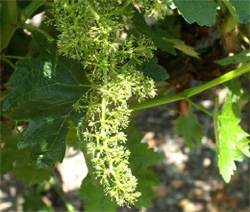 Late spring is a busy time in the vineyard. About 2 months after bud break the vines will have sent up large shoots, sprouted grape leaves and formed flowering clusters of what will become grape bunches. In early May "suckers" of unwanted growth are removed, thinning the vines to just the shoots we want. The shoots grow from the spurs, or one-year-old buds that were carefully preserved during pruning. Each plant has 2 cordons, or arms, and there are normally 5 spurs on each arm of a cordon. We leave 2 shoots on each spur. And, for each shoot, we leave 2 clusters of grapes. As a result, each plant will typically grow 40 clusters of grapes.
As the shoots grew, some by more than 6 feet, we needed to "tuck" them into the guide wires so they would continue to grow vertically. This is an important and necessary step to insure an adequate amount of sunlight will reach the grapes as they begin to grow and to allow for adequate circulation of air to keep the vines and grapes dry.
Now, beneath the leaves, blooming clusters of grapes, tiny as pinheads, have emerged. Bloom lasts for about 7 to 10 days starting when the flower cap falls away and ending when the flowers successfully self-pollinate. With luck they will "set" and continue to develop into full-grown grapes.
Bloom is a sensitive time for the vines when strong winds, a cold spell or heavy rains could spell disaster. Another major concern at this time is mildew. The best way to prevent mildew is to treat the vines with a mild fungicide.
Following bloom, we will go to work "leafing," or thinning out growth to open up the vines, and expose the growing grapes to more filtered sunlight. We'll also be thinning the crop, particularly the Sangiovese. What we are looking for is uniformity and balance where all the vines will have a similar yield resulting in improved overall quality. Irrigation will play an important role in crop development and you can visit our piece on irrigation for more details.