2005 Chanticleer Cabernet Tasting Notes
March 20, 2008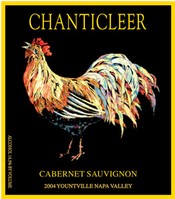 CHANTICLEER
2005 Cabernet Sauvignon
Yountville Appellation
Napa Valley
Harvest Dates: October 8th , 2005
Brix at Harvest: 24.8
Vineyard Location: Morningside Vineyard, Yountville Appellation
Blend: 98% Cabernet Sauvignon, 2% Sangiovese
Production: 408 cases
Suggested Retail: $55.00 per bottle
Release date: April 1, 2008
History: Chanticleer Cabernet Sauvignon was conceived by Chris Dearden, a Napa Valley winemaker who was searching for a great vineyard to produce an estate wine, and George Grodahl, a vineyard owner in the Yountville appellation of Napa Valley. George had planted a small 8 acre vineyard in 1994 with two types of grapes: Cabernet Sauvignon and Sangiovese. Cabernet is the king of all grapes in the Napa Valley, and Sangiovese is the prized grape that produces some of the finest Brunellos of Tuscany of Italy.
Vineyard: The Morningside Vineyard is located at the base of the Mayacamas Mountain range and is on the south-west side of the town of Yountville. This east-facing slope is full of sedimentary rock and gravel with excellent drainage and optimum sun exposure. It is an excellent site, where the mature vines are exuding the full flavors of a premier Napa Valley vineyard. Jim Barbour planted the vineyard in 1994 for George and Caddy Grodahl.
Winemaking: The handpicked fruit is rigorously sorted, gently destemmed and fermented in small, open-topped tanks utilizing a combination of soft pumpovers and hand "punch-downs". This delicate treatment typifies the winemaking process. After a 27 day maceration period, the wine was lightly pressed and transferred to a combination of 75% new and 25% once-used, small French oak barrels. It was gravity racked over the 22 months in barrel; decanted for clarity and freshness. It was bottled without fining or filtration on August 10th, 2007, and given eight months bottle age prior to release.
Tasting/Pairing Notes: The 2005 Cabernet Sauvignon is both opulent and well-structured. It is loaded with black fruits including blackberries, currant jam and plums. Aromas of cedar, allspice and violets round out the profile of the bouquet. On the palate, the entry is of fruit, toasted oak and mocha spice. It possesses a full mid-palate and a seamless, lingering finish. The small percentage of Sangiovese adds an element of floral characteristics in the nose and finesse on the palate. Our 2005 Cabernet should age well for the next decade; however, it will show better immediately if decanted. It is an excellent accompaniment to garlic and wine marinated pork loin, New York strip steak, Rosemary lamb chops, and aged Vermont cheddar cheese. Alternatively, serve it with your favorite chocolate dessert.
4 Vineyard View Drive
Yountville, CA 94599
707 945 0566/ Fax 707 944 0157
www.chanticleerwine.com